Yes this is real. We are all having to wear a mask on a daily basis due to the current pandemic.

Guest blog contributed by Jan Birch, Scientific Adviser to  the LUSTRE Clinic, MD at Blemish Clinic.
I am seeing so many more patients in my practice with spots and irritated skins. Some patients have developed quite severe cystic Acne. People who do not generally have any acne problems are suffering. The types of bacteria that cause the spots C Acne fluoresce under a special UV light (woods light).

Bacteria fluorescing under UV (Woods Light).
Photo Credit: Wembley Clinic
This is where the term #Maskne has come from.
What is it?
This is an umbrella term for a number of type of spots and rashes associated with mask-wearing.
Why are we getting it?
Contrary to Government advice, many people are wearing cloth masks for long periods of time but not washing them regularly which isn't good for cross-infection and could not only cause spots and other types of microbial infection but also spread the virus. Often masks are thrown in the car or loosely in a handbag. Men tend to put them in the back pocket of their jeans. Or scrunch them in their hands.
Ideally, we should be wearing face coverings once and then putting them into a separate compartment in a pouch or a plastic sealable bag and then put them into the washing machine at a 60 degrees to kill any microbes or viruses.

Medical masks and non-medical masks should not be worn over-and-over again. There is plenty of evidence out there to suggest they stop working after continued use. They can also be a huge source of infection. My friend is Emeritus, Professor of Microbiology at Manchester Metropolitan University, Prof Val Edwards-Jones undertook a number of tests, whilst wearing a variety of masks for the Daily Mail recently.
Many of the masks that were tested reduced bacteria from leeching out into petri dishes when coughing and spluttering through the material. However, most of that bacteria would have remained on the inside of the masks, so this would be a vector for bacteria fungi and viruses.

Moisture and friction
Wearing a mask creates an environment where moisture and friction can increase microbes on the skin which can lead to acne.
So, do not apply lots of makeup under the mask, as this would not only block your pores, but prevent the natural exfoliation of skin cells.

Cleanse your face thoroughly and use your

LUSTRE ClearSkin®

daily to the areas that you are having problems.

It would also help to spritz the face with an antimicrobial spray, such as a hypochlorous solution or a silver ion spray which helps kill off bacteria.
Reducing Maskne?
You would benefit from wearing anti-microbial face covering such as impregnated silver ions and copper which will reduce microbes. Also spraying the inside the masks with anti-microbial sprays.

Using your LUSTRE ClearSkin® regularly, in combination with a good skincare regimen.

Washing your mask daily, changing them regularly.

You will also reduce cross-infection by compartmentalising your dirty mask.

LUSTRE ClearSkin® has been extremely beneficial to me. I was wearing FFP3 masks all day in clinic. Obviously, the moisture, friction, and reduced oxygen due to such an enclosed environment made my skin break out into cystic spots. I used my LUSTRE ClearSkin® daily as part of the protocol and fortunately, over the last few months, my skin has gone back to normal.
I really do not think it would not have improved my maskne as quickly without my blue light therapy. If you are experiencing any of the problems associated with maskne, using LUSTRE ClearSkin® in combination with our expert advice, is a good place to start!
Jan Birch has also helped us launch our science-based eBook on how to tackle acne with blue light.
November 24, 2022 - LUSTRE® Team
With great pride and excitement, we are happy to announce that RENEW...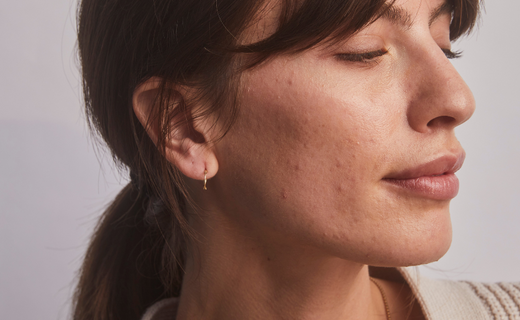 November 07, 2022 - LUSTRE® Team
Using light therapy to help to manage and treat acne is a...